TATA TISCON is available for both residential and project applications. The residential segment is catered to through Tata Steel's extensive dealer / distributor network and the project applications segment is handled by our sales office.
Isteel is manufactured by Viki Industries Limited, a company that has expertise and experience in the steel and power sectors. Headquartered in Chennai, the enterprise is professionally managed and is progressive in embracing new technology. We have strong affiliations and associations with experts in the construction industry, whom we draw upon in our research efforts to continuously improve the quality of our products.
With over 30 years of experience in the trade, we understand steel and we believe in service. On the basis of this experience, GBR Metals Private Ltd was established in 2005 to manufacture reinforcing steel bars.
Homes are built once in a lifetime; to be handed down over the generations. A home is forever. Building a home is giving wings to dreams and we hope to partner in helping create a robust, durable home that is repair and maintenance free
ARS Steel was established with the objective of building long term profitable and mutually valued partnerships with stakeholders. Known for its unique distribution network and the best quality TMT Bars, ARS is a brand with the largest steel plants in South India. ARS TMT Bars are widely supplied across South India through its authorized network of distributors.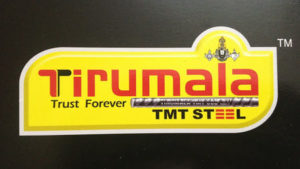 Tirumala PFI TMT is one of the leading steel suppliers, steel dealers, TMT bars and premium steel suppliers in Andhra Pradesh.
The latest Quenching and TMT process Technology.
Slit rolling technology.
Fully Automated Cooling bed for Uniform Quality and Straight Bars.
Automated Bending & Bundling System.
Bars Rolled in Modern Housing Stands for Uniform Size.
Reach Us
#No.161A,Thiruvallur Salai, Thiruvanmiyur,
Chennai- 600 041
Reach Us
#No.290,291 & 292 2nd main road, Nehru nagar, Kottivakkam, OMR, Chennai- 600 096.