Nippon Paint Group is based in Japan and has over 131 years of experience in the paint and coatings industry. It is among the leading paint manufacturers of the world and is number 1 in Asia. Nippon Paint produces high-quality paints and coats for the automotive, industrial and decorative sectors. Nippon Paint is more than 5 years old and is steadily making head-way into the paint market.

Nippon Paint has a range of interior, exterior and enamel finishes. To show-case its prowess in technology, the company also has a range of specialty products.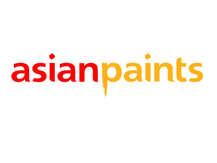 Asian Paints operates in 17 countries across the world. It has manufacturing facilities in each of these countries and is the largest paint company in eleven of these markets. Asian Paints operates in five regions across the world viz. South Asia, Southeast Asia, South Pacific, Middle East and Caribbean region through the five corporate brands viz. Asian Paints, Berger International, SCIB Paints, Apco Coatings and Taubmans
Dulux is its most popular brand of its Decorative coatings business. The best products for your project. We have the best products for every interior and exterior project. A full range of solutions to help you to decorate and get the job done.  Every year they try and introduce new products in India to further strengthen our position as an innovative specialty brand in paints.
Agsar Paints boasts of a plethora of products available under different brand-names in different finishes, with varying properties. Its paints are specifically designed and formulated to international standards, to ensure the finest for all your residential, commercial and industrial applications. Agsar Paints equipped world-class technology, has set its sights on becoming the topmost painting solution provider in the country. And the world, next.
MRF Corp Limited, India's premier paint manufacturer and pioneer of Polyurethane Coating Systems in the country.
MRF Vapocure Paints offer a continuum of protective paints.
Paints with shades that strive to symbolize your moods, passions and aspirations.
Paints that care for your prized assets: your home, workplace, that especially comfortable chair or jealously guarded guitar.
And Coatings for every surface - to Protect, Preserve and Beautify
Reach Us
#No.161A,Thiruvallur Salai, Thiruvanmiyur,
Chennai- 600 041
Reach Us
#No.290,291 & 292 2nd main road, Nehru nagar, Kottivakkam, OMR, Chennai- 600 096.