Madras Cements Ltd is the flag ship company of Ramco Group. The main product of the company is Portland Cement manufactured through the four advanced production facilities spread ove South India. 
The cement production capacity is 10 million tons per annum. The company is the sixth largest cement producer in the country and the second largest in South India. The main product is Ramco Supergrade which is a world class blended cement and one of the the most popular cement brand in South India. 
Penna Cement Industriies Limited is an ISO 9001:2008 Company. Penna is well positioned for continued growth and market dominance because of its vibrant leadership. Under the able leadership of founder promoter, Mr.P.Prathap Reddy, the management has taken significant steps to renew and refresh the core business of cement manufacturing for tomorrow, making the company achieve greater heights
At KCP our understanding unto it goes deep. Having produced quality products with the dedicated support of every employee, the group extends a devoted and supportive hand to its distribution network. The result – A Golden Investment for every KCP Cement Dealer. Factory fresh KCP Cement is distributed directly to our extensive market outlets all over South India, through our committed transport network.
Founded in 1935 by Jaidayal Dalmia; the cement division of DCBL was established in 1939 and enjoys a heritage of 70 years of expertise and experience. Today with their rich experience we have been able to broaden our horizons to include a holistic approach to the best practices in the industry. DCBL prides itself on having been at the forefront of pioneering and introducing many new technologies, which exist today, which are followed by others in the industry. 
UltraTech is India's largest exporter of cement clinker. The company's production facilities are spread across five integrated plants, five grinding units, and three terminals — two in India and one in Sri Lanka. All the plants have ISO 9001 certification, and all but one have ISO 14001 certification.
UltraTech's products include Ordinary Portland cement, Portland Pozzolana cement and Portland blast furnace slag cement.
Zuari Cement is part of the Italcementi Group, the fifth largest cement producer in the world and the biggest in the Mediterranean region. With net sales over 6 billion Euros in 2007 and a capacity of 70 million tonnes. In India, with its inherent strengths, Italcementi Group's Zuari Cement is committed to give the building industry a cement that is truly international.
The India Cements Ltd was established in 1946 and the first plant was setup at Sankarnagar in Tamilnadu in 1949 . Since then it has grown in stature to seven plants spread over Tamilnadu and Andhra Pradesh . The capacities as on March 2002 have increased multifold to 9 million tons per annum.
This product is recognized for its High early strength and excellent ultimate strength because of its optimum particle size distribution, superior crystalline structure and balanced phase composition and hence widely used and suitable for Speedy construction, Durable concrete and Economic concrete mix designs. 
Low percentages of alkalies, chlorides, magnesia and free lime in OPC 53 Grade cement leads to the production of durable concrete.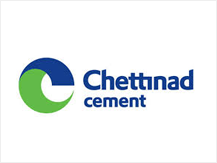 Chettinad cement is operating its cement business spanning three generations. Since its establishment in 1962 with a wet process cement plant at Puliyur near Karur, Chettinad cement has been expanding and making itself versatile in the field of cement products.
Major supplier of Southern India cement needs, Chettinad Cement supplies the "glue" upon which many residential, commercial and engineering projects are built. 
Reach Us
#No.161A,Thiruvallur Salai, Thiruvanmiyur,
Chennai- 600 041
Reach Us
#No.290,291 & 292 2nd main road, Nehru nagar, Kottivakkam, OMR, Chennai- 600 096.